KoKo Head (Stairs of Doom)
423 Kaumakani St
Honolulu, HI  96825
Whether you're looking for sunrise, sunset, or hot shirtless men. Koko head stairs offers you a workout with all the views. A total of 1,048 steps and over 1200 feet elevation, this hike is one to be taken at your leisure with sun protection and lots of water. Once you park at the furthest lot in Koko Head District park, walk up behind the baseball fields and just follow the people to the beginning of the stairs. This is where your journey begins. Step 1… step 2…. step 3… before you know it you've lost count and you're thinking, "why the hell am I doing this to myself?!". Trust me when I say, it is totally worth it at the top. About half way up you will come to a bridge of railroad ties with no trail beneath it (not pictured). I hope I don't have to say this, but don't fall through! Watch your step! Crawl up if you have to, or take the hidden trail to the right and avoid it all together. Personally, this is my favorite part! You'll eventually start to see why you did this. Looking back and to your left your eyes will be greeted with a bird's eye view of the iconic Hanauma Bay and Hawaii Kai Marina.
Step 1,046…. Step 1,047… step 1048…. You may be close to death but you've finally made it to the top!! Head to the right and up just a more for the 360 degree view you worked so hard for! During whale season (Mid December – Late May) you will be able to see whale frolicking and breaching on the south shore. Sunsets can offer some amazing colors and sunrise sometimes surprises you with super epic double rainbows!!
"Hike with Mike" Gay808's Hiking Guru.
Located upon 12 oceanfront acres, this private estate offers you the unforgettable chance to experience Hawaiian culture through a delicious island feast, traditional activities and entertainment! Be greeted with a complimentary Mai Tai and tropical lei. Around sunset, watch the unearthing of the traditional underground roasted pig at the Imu Amphitheater. After a delicious buffet dinner, enjoy mesmerizing dancing and live music that brings the story of Hawaii to life, culminating with a heart-pounding Samoan fire knife dance! The perfect  activity for guests at Ko Olina. More Details & Booking Info
Guests seeking dinner and a show on Oahu will not want to miss the Polynesian Cultural Center's own unique offerings. Book your choice of either an authentic island-style luau or a savory prime rib dinner buffet, and also receive tickets for the center's theatrical masterpiece, "Ha: Breath of Life," which combines traditional Polynesian song and dance with thrilling acrobatics to produce a truly memorable experience. Ambassador options are also available for guests seeking premium seating and other perks, like a look backstage after the show and special souvenirs to take home.
More Details & Booking Info
Hula's Catamaran Booze Cruise
One of the most fun things to do on a Saturday afternoon in Honolulu, Every Saturday, 2pm, $25 >> Order Tickets Here 
Not only the most popular snorkeling destination in Hawaii, Hanauma Bay Nature Preserve is also one Hawaii's most spectacular natural resources. >> Tickets Onsale Now!
3860 Manoa Rd
Honolulu, HI

Rain or shine this hike is one of the more popular waterfalls hikes in Honolulu! Very lush, easy to access and full of fun facts along the way. This well-maintained 1.6 mile trail is excellent for all hiking levels and only takes about 1.5 hours round trip. The trail head starts in the heart of beautiful Manoa valley, tucked away between the breathtaking Ko'olau mountains. You can park in the parking lot of a small fee, or park down the road and walk in to add a few more steps to your fitbit.
For the majority of the hike, you are alongside the creak of this 150 foot waterfall. Taking in the sounds of the rushing water, croaking frogs and indigenous birds of Hawaii. You pass under tunnels of dripping foliage, bamboo forests, and mother nature's doorway.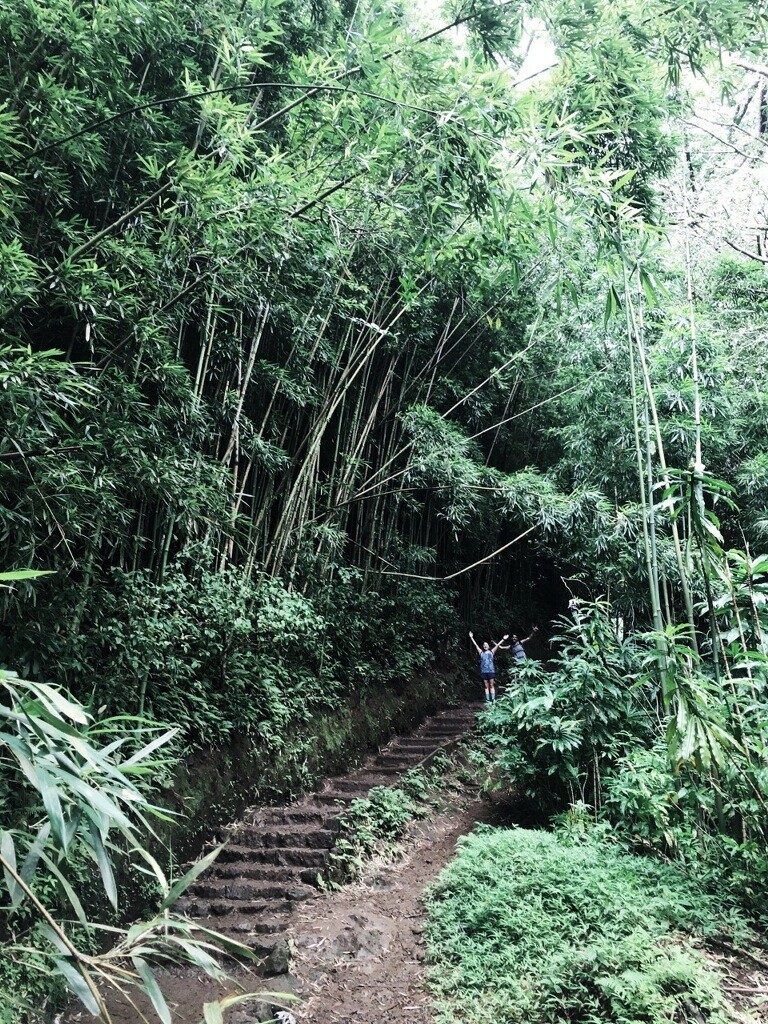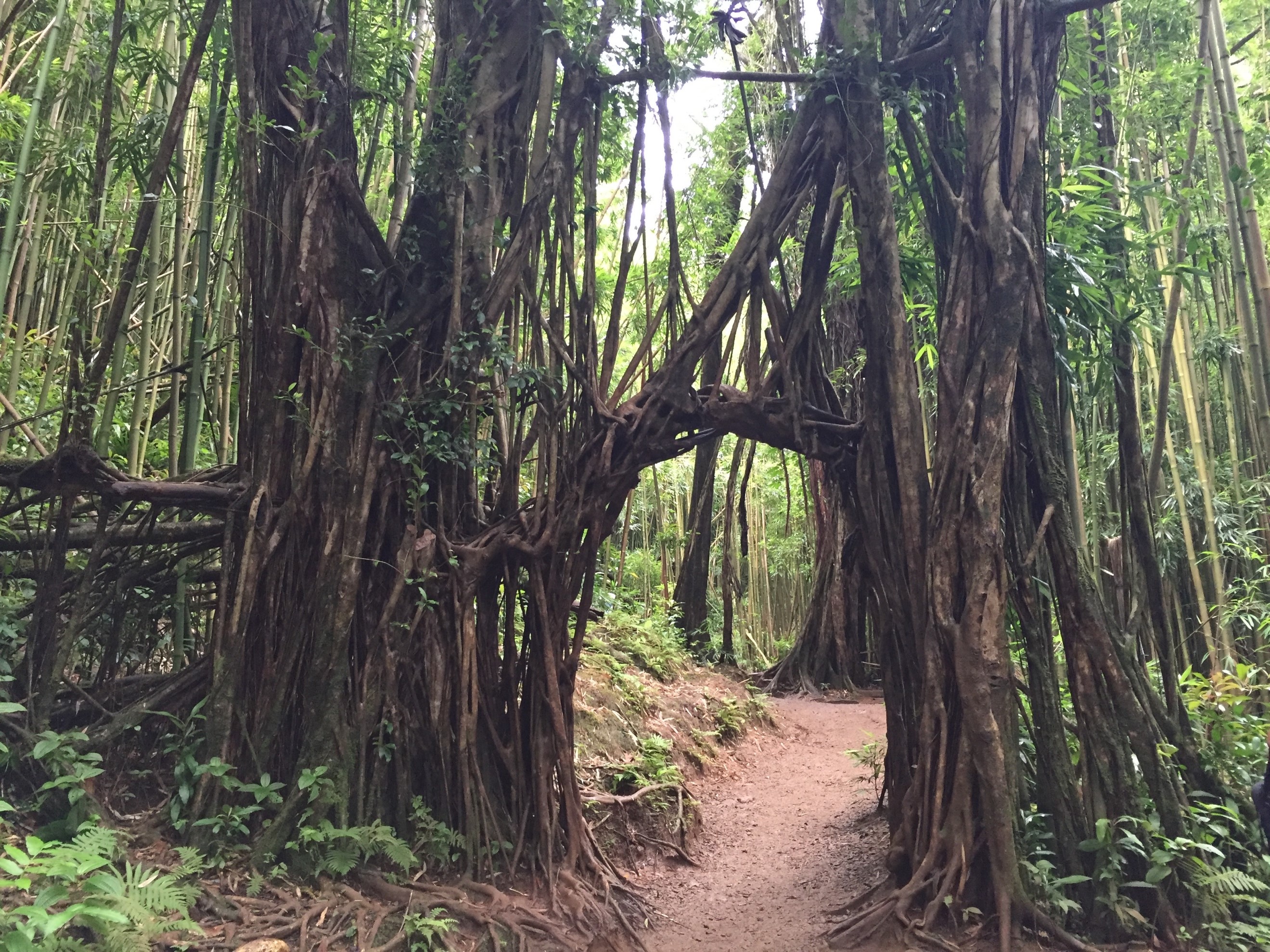 …Continuing along the potentially muddy path will shortly lead you to the moment you've been waiting for, Manoa Falls! Here is where everyone stops to snap their photos!
PS- It is not advised to swim in the pool due to possible contraction of leptospirosis, but I cannot think of a time that I have hiked in and not taken a dip (AT MY OWN RISK!).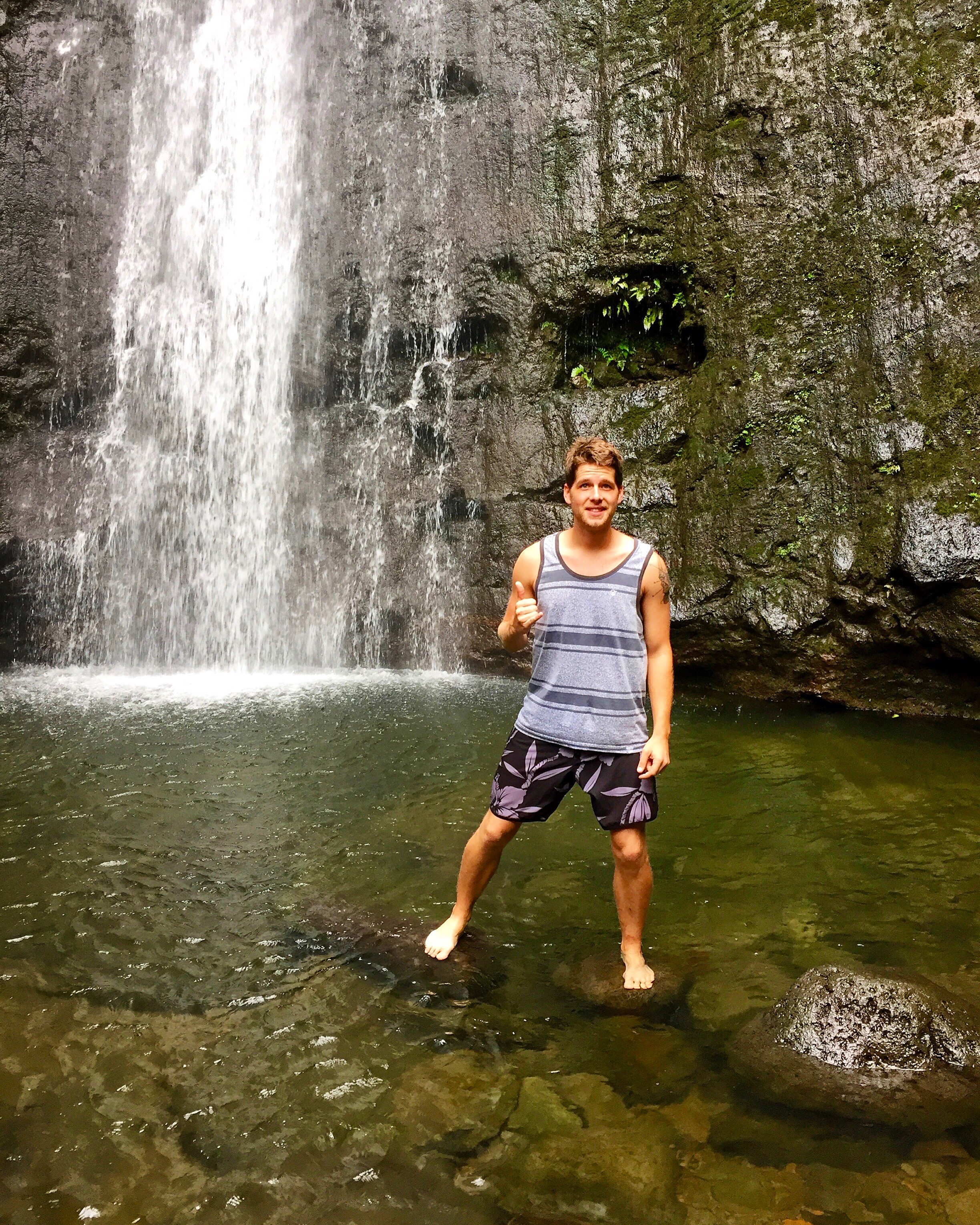 PPS – Keep an eye out for the cute chameleons that have overran this tropical valley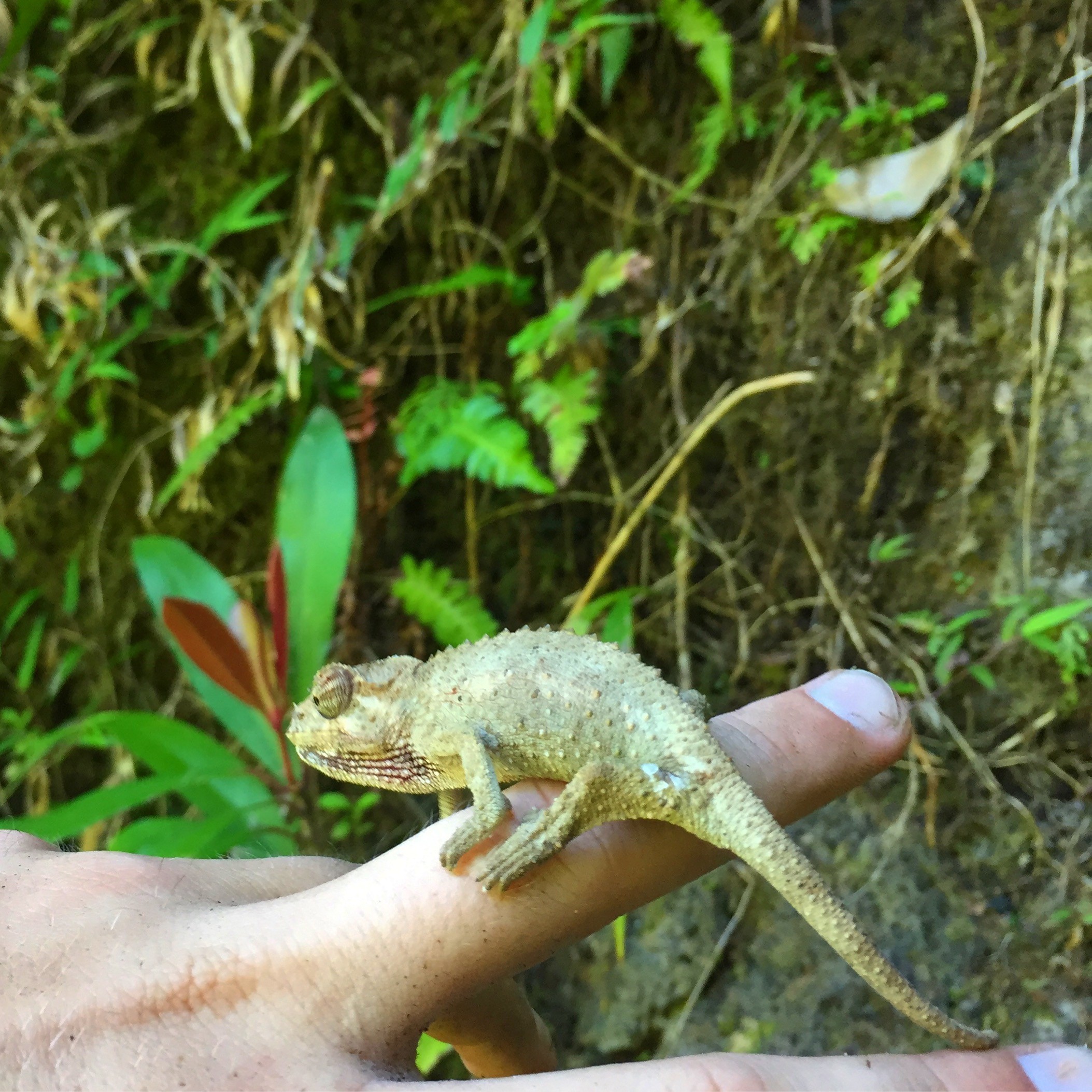 "Hike with Mike" Gay808's Hiking Guru.
Want to Book a Shuttle and check-it out for yourself? Click Here
Check back with us, More from Mike's Adventures Coming soon...
As the backdrop for countless Hollywood films and TV series, visitors to Oahu will be able to recognize iconic places and landmarks that were featured in their favorite shows. These tours take you to the locations where films were shot, including Kualoa Ranch in Kaaawa Valley, site of Jurassic Park and Lost, among others. You can also take a small-group tour to visit the most iconic locations from the new Hawaii Five-0 TV series. TV and film buffs look no further! Book a Tour Here
More Stuff to do In Hawaii...
Immerse yourself in the beautiful nature found of Hawaii as you hike 2 miles to Manoa Falls in Oahu on this small-group excursion. Join a local hiking expert, and a group of no more than 14 guests, as you journey via the Manoa Trail on a moderate hike to the tallest accessible waterfall on the island, a location made famous as a film location for Steven Spielberg's 'The Lost World.' This Oahu waterfall excursion also includes a backpack and hiking staff plus round-trip transport from Waikiki hotels. Highlights Small group nature tour hike to Manoa Waterfall on Oahu Guided hike to a secluded waterfall and famous movie locations Tallest accessible waterfall on Oahu All hiking gear provided Led by a nature and hiking expert Enjoy a personalized experience on a small group tour with a maximum number of 14 Choice of morning and afternoon hikes Pickup and drop-off at Waikiki hotels
Glass Bottom Boat Excursion:
Enjoy the coolest glass bottom boat tour in Hawaii run by a seriously eco-conscious company. Bring family and friends aboard our one-of-a kind spaceship-looking boat which happens to have the largest glass bottom in the world. Explore beautiful Hawaiian reefs and discover animals found only in Hawaii. This one and a half hour tour is smooth-riding, comfortable, shaded and great for the entire family. Enjoy complimentary snacks and drinks anytime. Our marine biologist will explain the fabulous world you are exploring in ways that you can relate to your own everyday life. A fun time for all ages! Highlights Family friendly See native wildlife in their natural environment See the underwater world without getting wet Snacks and Beverages included Seasonal Offer Travel by boat and see the sights from the water.
Attend a traditional Hawaiian luau with sunset coastal views at Paradise Cove. Enjoy a welcome Mai Tai, then eat authentic Hawaiian food like fresh seafood, kalua pork and tropical fruit during this 5.5-hour experience. Watch the colorful sunset and enjoy entertainment from traditional Hawaiian musicians, hula dancers and fire twirlers. Three dining packages are available to customize your experience, and round-trip transportation from Waikiki hotels is available. Highlights 5.5-hour sunset dinner and show at Paradise Cove Luau Three Oahu luau packages to suit all tastes and budgets Welcome Mai Tai followed by Polynesian activities Extensive menu blending Hawaiian and continental cuisine Luau Paradise Cove Extravaganza Songs and dances from across Polynesia Pickup and drop off from selected Waikiki hotels
Diamond Head Crater Adventure
Climb Hawaii's most famous volcano on this 3-hour Diamond Head tour. A local guide will lead you through Diamond Head State Park and up to the summit, providing commentary about the crater's history and geology. Prepare for spectacular views at the top, with a panorama of Waikiki and the turquoise waters stretched out below. At the end of your tour, you'll be given an 'I Climbed Diamond Head' certificate from your guide. Highlights 3 hour walk to Diamond Head Crater Guided walk to the summit of Diamond Head Crater Personalized "I Climbed Diamond Head" certificate All hiking gear provided on Oahu crater tours Led by a nature and hiking expert Pickup and drop-off at Waikiki hotels
USS Missouri, Arizona Memorial, Pearl Harbor and Punchbowl Day Tour
Take a moving trip to the Pearl Harbor Museum and naval base in Hawaii, enjoying skip-the-line access for a guided tour of the USS Missouri, a visit to the USS Arizona Memorial and a sightseeing tour of Honolulu on this 7-hour excursion. Check out Pearl Harbor's Visitor Center before touring the USS Missouri and paying your respects at the USS Arizona Memorial. Then continue by air-conditioned coach to the National Memorial Cemetery of the Pacific (Punchbowl Cemetery) and see downtown Honolulu. Entrance fees and round-trip hotel transportation are included. Highlights Full-day Pearl Harbor tour combining visits to the USS Arizona Memorial and USS Missouri Skip the line on a guided tour of the USS Missouri, the last battleship built by the US Navy See historic artifacts at the Pearl Harbor Visitor Center Ride a Navy launch to view the USS Arizona Memorial with a knowledgeable guide Tour downtown Honolulu, including Kawaiahao Church, King Kamehameha statue and the Mission Houses Museum Drive through Punchbowl Cemetery (the National Memorial Cemetery of the Pacific)
Oahu Casual Sunset Dinner and Show Cruise
Watch the Hawaiian sunset while enjoying a delicious dinner and live entertainment during this 2-hour cruise from Oahu. As the sun sinks towards the horizon, watch its vibrant colors reflected on Diamond Head and enjoy a welcome Mai Tai. Dine on seafood and steak, then enjoy live entertainment including the 'My Hawaii – Beyond the Reef' Hawaiian cultural show. Round-trip transportation is available from select Waikiki hotels, if option selected. Highlights Romantic sunset dinner and show cruise off the coast of Oahu Breathtaking views of Diamond Head and Oahu's coastline Onboard entertainment includes "My Hawaii – Beyond the Reef" performed by the largest cast on Oahu's waters
Surf is king on Oahu's North Shore, where summertime's mostly placid snorkeling spots and beginner surf breaks are transformed into pounding ragers come winter. Then, perfect crests and barrels topping 35 feet combine for a not-to-be-missed spectacle often used in world-class surfing competitions.
The North Shore is best known for the so-called "Seven Mile Miracle" of bays and surf breaks between Sunset Beach and Haleiwa, including the famous Banzai Pipeline and Waimea Bay. But the land area extends north of Laie (home of the Polynesian Cultural Center) in the east all the way to the albatross and monk seal refuge of Kaena Point on Oahu's westernmost tip. In between, travelers will find a respite from hectic Honolulu: roadside trucks serving heaping portions of garlic shrimp; acai smoothie cottages; scenic waterfall hikes; scattered stretches of white sand; and the charming clapboard shops, surf boutiques and restaurants of downtown Haleiwa.
Experience the North Shore with a surfing lesson, a snorkel session at Waimea Bay, a dune buggy adventure or a sunset helicopter tour. Visitors can also choose a trip that hits the highlights, with stops at the Waimea Valley waterfalls, a luau and Haleiwa.
North Shore Turtle Cove Guided Snorkeling Tour
Explore the underwater world with a professional snorkeling instructor at the world famous North Shore.This 2-hour small-group outing ensures a personalized experience. We take you to the real open water for an unforgettable experience. View the tropical fish, sea life, and the amazing underwater world of Hawaii. Highlights Snorkel gear included Small group ensures personal service Seasonal Offer See native wildlife in their natural environment Perfect introduction for first-time visitors Once-in-a-Lifetime Experience
Oahu Parasailing Tour from Honolulu
Go parasaling over Maunalua Bay on this 1-hour adventure from Honolulu. Choose from two flights that take you 500 feet (152 meters) or 700 feet (213 meters) in the air for views of the Ko'olau Mountain Range, Koko Head and the Hawaii Kai coastline. GoPro videos and digital photos of your tandem flight and dip in the warm ocean water are available upon return to land. Round-trip transportation from Waikiki hotels is available. Highlights Parasailing tour on Oahu Soar over Honolulu's Maunalua Bay on an exciting 8- to 10-minute tandem flight Enjoy amazing views of the coast, Koko Head and the Ko'olau Mountain Range from above Choose from two flights that go either 500 feet or 700 feet high You'll receive a safety briefing from your experienced guide, and observers are welcome on the boat Purchase digital photos and GoPro videos of your flight to remember this experience forever Hotel pickup and drop-off for select departure times are available.
The Honolulu Zoo is Located between the slopes of Diamond Head and Waikiki at the corner of Kapahulu Avenue and Kalakaua Avenue and is open 9:00 am to 4:30 pm daily. They are open every day except Christmas Day. Plan your visit at the Honolulu Zoo.
General Admission: Adults 13 & over – $14.00, Children 3-12 years: $6.00
Kama'aina/U.S. military*: Adults 13 & over – $8.00, Children 3-12 years – $4.00
* I.D. required for kama'aina/U.S. military rates.
Memberships are available for families starting at $40 a year. More information on memberships.
The Zoo is 42 acres and home to 905 different animals from the tropics. Komodo Dragons, orang-utans, elephants, primates, birds, reptiles, amphibians, and a variety of African animals can be seen daily. Be sure to see the wildest place in Waikiki!
A day at the zoo is never dull! Join us for an extraordinary event… And take home fun knowledge about life at the zoo! Learn about our Education Programs.
Pacific Aviation Museum Pearl Harbor
The mission of Pacific Aviation Museum Pearl Harbor is to develop and maintain an internationally recognized aviation museum on Ford Island that educates young and old alike, honors aviators and their support personnel who defended freedom in the Pacific Region and preserves Pacific aviation history.
View their Flickr photos here
Valley of the Temples Memorial Park
Kahaluu, O'ahu, Hawaii
The Byodo-In Temple is located at the foot of the Ko'olau Mountains in Valley of the Temples Memorial Park. It was established on June 7, 1968, to commemorate the 100 year anniversary of the first Japanese immigrants to Hawaii. The Byodo-In Temple in O'ahu is a smaller-scale replica of the over 950-year-old Byodo-in Temple, a United Nations World Heritage Site in Uji, Japan.
The Byodo-In Temple is a non-practicing Buddhist temple which welcomes people of all faiths to worship, meditate or simply appreciate its beauty. The temple grounds are often used for wedding ceremonies for Hawaiians or visitors from Japan.
The Temple grounds are a lushly landscaped paradise nestled in a cleft of the pali and are home to wild peacocks and hundreds of Japanese koi carp. The beautiful grounds include a large reflecting pond, meditation niches, and small waterfalls. Visitors describe this destination as beautiful, peaceful, and restful.
The TV series Hawaii Five-O and Magnum, P.I. featured several episodes where the temple is incorporated into the plot. The temple and its gardens also appeared in an episode of the ABC series Lost, "House of the Rising Sun" in season one as the home of Sun's father.
The Byodo-In Temple is a Hawaii State Landmark. When you visit the Byodo-In Temple, you are truly experiencing one of Hawaii's best kept secrets.
Follow our Social Stuff: