Candi Shell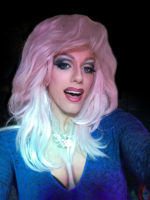 Business Name:
Candi Shell
Short Business Description:
Candi Shell is a singing, comedic drag queen who could be perfect to host your next event!
Long Business Description:
Candi Shell is a pink-haired, singing comedy queen, originally from Dallas, Texas. She started her drag career as the front-woman for the "girl" group SHE-DICK, which she brought to New York City in 2008, appearing in Time Out Magazine, opening for Joan Rivers at her annual Pride performance at the Gramercy Theater, starring with Mimi Imfurst in the stage parody "Boylesque" and even appearing as herself on an episode of Ugly Betty. Candi writes parodies as well as her own original music and is perhaps best known for her song "Under the Knife". She now resides in Honolulu, where she hosts a monthly variety show MIMOSAS & MARYS at Hula's Bar & Lei Stand. Candi also has a new sketch comedy talk show, THE SWEET SPOT WITH CANDI SHELL, which airs locally on Olelo 53 and is available on YouTube.
Follow our Social Stuff: